From event website: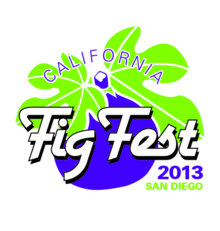 Enjoy delectable tastings from more than 40 amazing chefs, food purveyors, wine makers and breweries when California Fig Fest 2013 comes to San Diego for its 10th annual celebration of fresh and dried California figs.
Participating Chefs include:
Chef Jeff Jackson, A.R. Valentien
Chefs Nicolas Bour & James Kozak, Avant
Chef Amy DiBiase, Baleen
Chef George Morris, Beaumont's Eatery
Chef Patrick Ponsaty, Bellamy's Restaurant
Chefs Mario Cassineri and Francesca Penoncelli, BiCE Restorante
Chef Gayle Covner, Blueprint Cafe
Chef Katie Grebow, Cafe Chloe
Chef Joanne Squires-Sherif, Cardamom (Bakery)
Dave Rudie/Tommy Gomes, Catalina Offshore
Chef Martin San Ramon,  Martin San Ramon Catering
Chef Ryan Steyn, Ryan Steyn Catering
Beatriz Ledezma, Caxao Chocolates
Robin Ross, Cupcakes Squared
Michelle Ciccarelli Lerach, Cups
Chef Drew Deckman, Deckmans
Chef Olivier Bioteau, Farm House Café
Chef Flor Franco, Indulge Catering
Chef David Baron, Jackie's Jam
Chef Christian Graves, JSix
Chef Gregory Frey, BlueFire Grill
Chef Benito Molina, Manzanilla
Chef Javier Plascencia, Misión 19
Chef Guido Nistri, Monello, Bencotto
Chef Rachel King, NINE-TEN
Chef Michael Alves, Roseville Cozhina
Chef Maeve Schulz, Sugar & Scribe
Chef Matt Richman, Table 926
Chef Jean-Michel Diot, Tapenade
Catherine Demuth-Pepe, Temecula Olive Oil
Chef Bradley Austin, Tender Greens
Chef Jeff Rossman, Terra American Bistro
Chefs Bernard Guillas and Ron Oliver, The Marine Room
Chef Miguel Valdez, The Red Door/Wellington
Gina Frieze, Venissimo Cheese with Bread & Cie
Chef Dawn Parks, Wild Thyme
Join the festivities at the new San Diego Public Market on Sunday, September 8th, from 4 to 7 pm.
Savor local food, extraordinary wines and craft brews, revel in the entertainment and cheer your favorite chefs in the Culinary Competition. Take home recipes, samples and treats.
Watch figfestsd.com for updates on participating chefs and their creative offerings featuring California Figs.
This fundraiser is produced by California Figs and Les Dames d'Escoffier San Diego Chapter; your purchase benefits Olivewood Gardens & Learning Center, Culinary Scholarships and Grants, and the Public Market Kitchen.
For more information, see the event website, or click here to buy tickets!