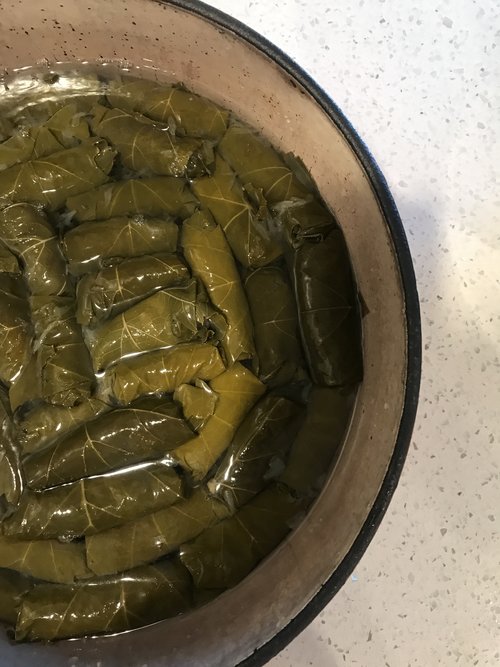 Lamb Stuffed
Grape Leaves
With the autumn leaves falling from our trees (sorta, we live in SD), enjoy this stuffed grape leaves recipe from Dan Parker.
Ahh, autumn. We are sure you are enjoying one of the season's most bountiful fruit - grapes. While they come in all sorts of colors, sweetness levels, sizes and more; we often forget to enjoy the other parts of the wonderful vine — the grape leaves! Dan Parker, husband of our Slow Food Urban Secretary Stephanie Parker, reminisces moments stuffing grapes leaves with his grandmother. Here is his grandmother's recipe!
Ingredients/ Equipment:
60 or so grape leaves (we used a combo of fresh and pickled) rinsed

2 cups of rice (we used long grain white rice)

2 lbs of ground lamb

2 tsp salt + 1 tsp for water

1/2 tsp cinnamon

1/2 tsp Allspice

1/2 tsp black pepper

1/4 tsp oregano

3 cloves garlic, minced

Juice of 2-3 lemons
Instructions:
Rinse grape leaves and dry them in linen towel.

Add meat, rice, cinnamon, allspice, 2 tsp salt, pepper, oregano and garlic into a bowl and mix together.

Roll meat and rice mixture into grape leaves and place in pot tightly together.

Place a plate on top of leaves to hold down.

Add 1 tsp salt and lemon juice to water and fil lto the rim of the plate.

Bring to a boil, then cover and simmer for 90 minutes.

While we waited, we snacked on some fresh na'an from North Park Produce, some Labneh and Za'atar spices from our friends Smij Spicery.

We grilled up some beef and veggie kabobs and had a delicious feast for dinner! We love dipping our grape leaves in Labneh.